In this Book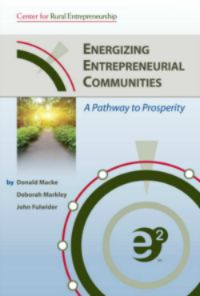 In our first book, Energizing Entrepreneurs: Charting a Course for Rural Communities, we made the case for entrepreneurship development and provided a roadmap for communities interested in getting started.
Since then, we've honed our approach and built out our tools and resources to help communities of all sizes create a supportive ecosystem for their entrepreneurs to increase impact. Throughout this book you'll find links to e2 University, an online platform for sharing our work and tools.
Read the Preface and Table of Contents to find out more!
Is the book for you?
If you fit within one of these categories, the answer is yes!
1. You've never invested in economic development--you'll learn why you must take control of your community's economic future and get concrete ideas for doing it.
2. You're looking for alternatives to conventional economic development approaches--you'll find inspiration in a proven framework.
3. You've practiced entrepreneur-focused economic development with limited success--you'll find a systems approach that will help you achieve greater prosperity.
What Others Are Saying
---
"We have worked with thousands of rural entrepreneurs across the Arkansas Delta over the past 15 years. Energizing Entrepreneurial Communities, A Pathway to Prosperity has given us a whole new perspective on effectively engaging communities in our work in order to create ecosystems in which rural entrepreneurs can be more successful. I deeply appreciate all of the practical tools that the book offers. This is obviously a work that emerged from many years of creating real, entrepreneurial communities on the ground. It is a gift to those of us doing this work that the Center for Rural Entrepreneurship chose to share its knowledge and tools in this way. We have already ordered copies for our community partners to read."
Ines Polonius, CEO, Communities...Unlimited
---
"To create real wealth, we must create environments for our children and citizens to develop businesses in our hometowns and implement policies that undergird small companies by building an entrepreneurial development system (EDS). That is exactly what The Center for Rural Entrepreneurship will encourage you to do in their new book, Energizing Entrepreneurial Communities. In the book, we found a powerful, A – Z-like approach that allows and teaches communities to encourage growth from within, taking control of their own economy. Developing an entrepreneurial development system will build upon community strengths and allow you to identify and build individuals that have a passion and an idea that will create wealth. We heartily recommend this new read and for your community to take the actions in this book."
Frank and Kimberlee Spillers, Authors, Speakers, Trainers, Coaches
The Be WUCA! Way, The ART of getting along
Global Horizons, LLC